SOLO® Pool Table Recovering & Refelting
Has the condition of your felt deteriorated to where you may have blemishes, rips, and tears? Or are you just looking for something to compliment the color scheme of your room? Maybe a favorite team color? Whatever the case may be, we can definitely assist you. SOLO®'s pool table re-felting services are completed by technicians who have proven expertise in the task. You will not have to worry about any possible embarrassment during gameplay with your friends or family. If anything you will be praised for providing a great experience while playing on luxury work.
For pool table recovering we will come out to your home and remove the existing felt from your pool table, replacing it with Championship Titan or Tour Edition. We will also double check your billiard table to see if it is level, if it isn't, we will fix it. Other brands of felt can be available. Championship happens to be the best in quality and therefore it is our preferred brand. With over 30-different color choices to choose from, please click on the link to choose a cloth color. When you call or send e-mail, tell us which one you would like and we will get you taken care of.
Pool Table Recovery Service Quotes
Please be sure to provide accurate pool table dimensions (usually measured from bumper-to-bumper), so that we could have the correct cut of cloth and be more time-efficient. Wrong information could incur additional trips and material costs. Typical pool table sizes are 7ft, 8ft, and 9ft pool tables.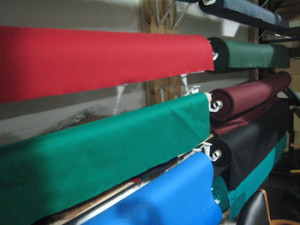 For a quick pool table moving quote, give us a call or just e-mail us!  We can also apply pool table felt for a smooth recovering job when we arrive to professionally install your pool table, just let us know in advance the type and color and we'll have it ready for your installation.
All products and services are covered under our exclusive ABIA service guarantee against rips, tears or manufacturers defects for 1 year after application.
Moline Pool Table Movers thank you for visiting our site.